CUSTOMISED PACKAGES
MEDICAL TOURISM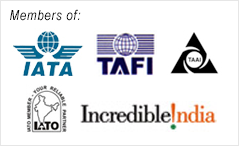 Kutch Delight
Duration: 11 Days
ITINERARY
Day 1 : Mumbai – Bhuj - Nakhatrana (Approx 60kms /1½ hrs)

Afternoon : Flight from Mumbai to Bhuj. On arrival leave for Nakhatrana by road. visit dsp office first for permit procedure for lakhpat. (clients have to keep photo id with address proff with them without fail ) and dsp office remains close on 2nd & 4th sat , sun & public holiday.
Overnight at Nakhatrana
Day 2 : Nakhatrana – Lakhpath – Nakhtrana. (Approx 200 kms /5 hrs)

Leave by surface for Lakhpath. (Lakhpat is the last town situated at the western end of India, on the India-Pakistan border, at the junction of Kori Creek and Rann of Kutch.) Visit tomb of Gosh Muhammad and Sikh Gurudwara.
Overnight at Nakhatrana
Day 3 : Nakhtrana – Koteshwar- Narayan Sarovar – Nakhtrana (Approx 250kms / 6 ½ hrs)

Leave by surface for Koteshwar known for Shiva Temple.
Enroute visiting Mata no Math the ancient temple of Goddess Ashapura. Onwards proceed for Narayan Sarovar which is known for wildlife sanctuary famous for Chinkara, Blue Bull, Spotted Deer, etc.
Overnight at Nakhatrana.
Day 4 : Nakhtrana - Mandvi. (Approx 90 kms / 2 ½ hrs)

Leave by surface for Mandvi. (Mandvi is known for pristine beach with crystal clear water of the Arabian sea. It is one of the great port of Kutch).
Arrive Mandvi Afternoon : Visit Vijay Vilas Palace – summer retreat of the royal family.
Enjoy day at the beach.
Overnight at Mandvi.
Day 5 : Mandvi – Bhadreshwar – Gandhidham . (Approx 130kms / 3 ½ hrs)

Leave by surface for Gandhidham enroute visiting Bhadresar. Bhadresar it is home to one of the holiest shrines of Jain.Religion.
Visit ancient step well, Sol Thambi mosque and Kera Temple.
Continue onwards viewing a monument dedicated to Mahatma Gandhi, which is worth visiting. Other interesting sights in Gandhidham include the Khavada handicrafts village and the Flamingo colony.
Overnight at Gandhidham.
Day 6 : Gandhidham - Dholavira – Gandhidham. (Approx 425kms /10 hrs)

Leave by surface for Dholavira. Dholavira presents the most exciting remains of the Harappan civilization.
Day 7 : Gandhidham – Bhuj

Morning : Leave for Bhuj by road (approx 120kms / 03hrs drive).
Later leave for city sightseeing of Bhuj : Aina Mahal and Pragmahal, Bhujaudi.
Later leave for Anjar (approx 50kms/1hour). Anjar famous for Jesal Toral Tomb.
Overnight at Bhuj.
Day 8 : Bhuj – Hodka (Approx 250 kms / 6 ½ hrs)

leave by surface for hodaka village (kutchchhi village on the edge of rann of kutch is inhabited by meghwals who had migrated from sindh in the 18th century.).
First visit bhirandiyara village for permit procedure, this permit is require to visit banni villages , kala dungar, and india bridge. clients have to keep photo id with address proff and passport with 2 passport size photograph with them without fail ).
Enroute visit nirona, banni which are famous for handicrafts.
Overnight in hodka.
Day 9 : Excursion to Kalo Dungar , Dhorado, Khavda (Approx 200 kms/ 5 hrs )

Leave by surface for Kalo Dungar (Kalo Dungar which is closest to Pakistan Border which is also called as Black Hill and has 400 year old temple of Lord Dattatreya ) proceed for Dhorado, Khavda, India bridge - Subject to permission.
Overnight in Hodka.
Day 10 : Hodaka – Bhuj (Approx 250 kms / 6 ½ hrs)

Morning : Leave for Bhuj by road. Afternoon : At leisure. Evening : Visit local Market for shopping. Overnight in Bhuj.
Day 11 : Bhuj – Mumbai

Morning : Transfer to Bhuj airport for your return flight to Mumbai.
Customise your own package