MEDICAL TOURISM
CUSTOMISED PACKAGES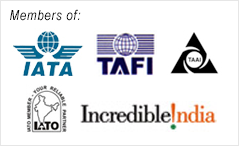 Q. Why should a traveler buy travel insurance?
A. Travel insurance gives travelers coverage for unforeseen problems, from a cancelled flight to a serious illness. If an illness, accident, or other covered unforeseen circumstance forces a traveler to cancel or interrupt his plans, he has to face two major financial losses?money invested in nonrefundable pre-payments, and medical expenses that in many instances may not be covered by health insurance.
Q. What happens if a traveler has to cancel his vacation?
A. Often a traveler will lose nonrefundable deposits and prepayments that can add up to hundreds—or even thousands—of dollars. A comprehensive travel insurance plan can provide trip cancellation coverage for the traveler's vacation investment—the insurance company reimburses the traveler for all pre-paid, nonrefundable expenses for a covered loss.
Q. How does trip cancellation and interruption coverage work?
A. It reimburses for forfeited, nonrefundable, unused payments or deposits if the traveler has to cancel or interrupt his trip due to a covered reason.
Q. What other coverages excluding medical expenses are typically included in Oriental travel insurance plan?
A. Following are the coverages offered by Oriental Travel Insurance plan:
Emergency Dental cover

Personal Accidental Death

Loss of Checked in Baggage

Delay of Baggage (more than 12 hrs)

Loss of Passport

Personal Liability

Trip Cancellation

Missed Connections

Bounced Hotel Booking
Q. How much does travel insurance cost?
A. The cost of travel insurance is based, in most cases, on the value of the trip and the age of the traveler. Typically, the cost is five to seven percent of the trip cost.
For more information on overseas and student insurance click on the links given below: