CUSTOMISED PACKAGES
MEDICAL TOURISM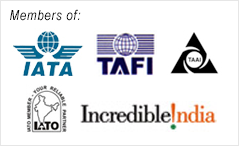 Royal Rajasthan
Duration: 13 Days
ITINERARY
Day 1 : Mumbai – Ahmedabad - Dungarpur

Morning: Flight from Mumbai for Ahmedabad. On arrival leave for Dungarpur by road(175 kms/approx 02 ½ hrs drive).
Afternoon : At leisure.
Overnight at Udai Bilas Palace Hotel
Dungarpur & Udai Bilas Palace : The hilly bastion of Dungarpur was founded in the 13th Century. Some 700 years later, Dungarpur is still a picturesque town set amidst the rugged peaks of the Aravalli mountains. Nestled in idyllic splendor, with the blue waters of the Gaibsagar Lake on one side and a cove of private reserve forest on the other, Udai Bilas Palace is the embodiment of the old world charm of priencly India – exquisite Rajput architecture, fine murals, miniature paintings and stone carvings will delight the cultured traveller.
Dungarpur is the stronghold of the Bheels, a tribe whose history is said to date back to 4000 BC.Besides visits to the Bheel hamlets, take an excursion (45 kms one way / approx 01 hr drive one way) to the 14th Century temple of Rishabdeo, noted for its intricate carvings and prescious stone studded idol of Lord Kesariyaji. Dungarpur is a memorable experience in your journey across India.
Day 2 : Dungarpur - Udaipur

Morning : Visit Juna Mahal in Dungarpur.
Thereafter, leave for Udaipur by road (140 kms/ approx 02 hrs drive).
Enroute visit Kesariyaji Temple (guide not required).
Afternoon : Arrive spectacle. Overnight at Shikarbadi Hotel.
Juna Mahal, Dungarpur : The Old Palace or Juna Mahal is owned by the royal family which also owns and operates the Udai Bilas Palace. The Juna Mahal is no longer occupied and can be visited only on invitation. The construction of this palace was started durning the 13th Century. This seven-storied structure, built of grey-green granite and marble, resembles a fortress bedecked with arched windows, ornate balconies, pillars, crenellated walls, turrets and narrow entrances and passage-ways. Inside, the walls are bright with remarkably well-preserved paintings, tiles and mirror mosaics. You will see one of the most colourful and vibrant palaces embellished with frescoes, miniature paintings, glass and mirror inlay work.
Son-et-Lumiere at the City Palace, Udaipur : Titled "The Legacy Of Honour", the Mewar sound and light show is held every evening on the grounds of the magnificent Manek Chowk inside the City Palace of Udaipur. The hour-long show recreates the glorious history of Mewar in a delightful play of light and sound. The narrative in English evokes significant episodes during the eventful centuries of the region's history. The beautiful City Palace, a witness to the changing fortunes of Mewar, provides the perfect setting and backdrop for this audiovisual spectacle.
Shikarbadi Hotel : A former hunting lodge, this royal retreat nestles on the foothills of the Aravalli mountain range that provides a picturesque backdrop to this sanctuary-resort. The rugged ambience of a sanctuary continues to be preserved at the Shikarbadi Hotel with the wildlife and numerous bird species adding an unmistakable touch of adventure to a hotel which is far from the hustle and bustle of city life. The Shikarbadi Hotel has a private airstrip and houses one of the oldest polo fields and cricket fields of Udaipur.
Day 3 : Udaipur

Morning : City tour of Udaipur with a local English speaking guide.
Afternoon : Boat ride on Lake Pichola with a local English speaking guide.
Overnight at Shikarbadi Hotel.
City Palace : Udaipur's fascinating City Palace, on the shore of Lake Pichola, comprises of eleven constituent palaces constructed by successive maharanas(kings), during the 300 years that followed the foundation of Udaipur in 1559 and characterized throughout by their exemplary workmanship, together form the largest royal complex of Rajasthan. Part of the palace is now a museum. Everywhere you look, the marble and granite walls are laden with miniature paintings decorated with tiles or overlaid with mosaics of coloured glass and mirrors and each room glows with sunlight filtering throuth stained-glass windows. Narrow low-roofed passages connect the different palaces and courtyards, creating a haphazard effect, designed to prevent surprise intrusion by armed enemies.
Day 4 : Udaipur - Deogarh

Morning : Leave for Deogarh by road (150 kms / approx 02 hrs drive).
Afternoon : Horse Safari. Evening : Spa Treatment – full body scrub or full body massage (duration approx 01 hr).
Overnight at Deogarh Mahal.
Day 5 : Deogarh

Morning : Train Safari . Afternoon : Village Safari by open jeep.
Overnight at Deogarh Mahal.
Deogarh Mahal : A fitting stronghold for one of the sixteen feudal barons of Mewar, Deogarh Mahal is 300 years old. The palace was built in stages as each of the rules added to it. The present owner Rawat (Chieftan) Nahar Singh converted the palace into a hotel. Apart of the Mahal is still occupied by his royal family. The family is closely associated with the hotel and personally supervises and monitors the on-goings. The care is reflected in the minutest details which have made Deogarh a benchmark of heritage hospitatily in Rajasthan . Every guest here is special and is treated with the customary Mewari(Royal) hospitality. Deogarh Mahal has a selection of luxurious suites and fine double rooms restored to blend with the period and architectural style. Open-to-sky dinning terraces with food in traditional thalis create a magical experience. You can flavor typical Mewari cuisine served with traditional hospitality. Food is sure to be the best at the hotel. The family farms provide organically grown foods and the dairy also vegetables, and distinct freshness. At night, the moon terraces lend to the Mahal an ethereal elegance.
The Marwari Horse Safari offers an amazing insight into the village life and its surroundings. The Rural Ramble – a drive through the country and villages in one of the royal family's vintage vehicles is offered to the neighboring tribal and Rabari settlements to experience the rich rural cultural of Rajasthan.
One of the main attrations at Deogarh is the Train Safari- a ride on the local meter gauge train- which takes guests through the picturesque Aravalli mountains, passing through tunnels and bridges overlooking beautiful lakes and forests. If someone who has never been to India wished to be immersed straight away in the most beautiful and amazing aspects of the country, Deogarh is the place to arrive. After spending a couple of nights in Deogarh, one's expectations of next place on the ITINERAY becomes impossibly high. To get to Deogarh is to fall in love.
Day 6 : Deogarh - Luni

Morning : Leave for Luni by road (150 kms / approx 02 hrs drive).
Enroute visit the Jain Temple complex at Ranakpur with a local English speaking guide. Afternoon : Safari to visit the Bishnoi villages with a local English speaking guide. Overnight at Fort Chanwa.
Ranakpur : Located 96 kms from Udaipur in a small wooded valley, Ranakpur is one of the five main holy pilgrimage places of the Jains. These temples are over 500 years old but are preserved in perfect condition. The central temple built in 1439 is the Chaumukha temple dedicated to Adinath, the first Jain tirthankara or saint whose four-faced image is enshrined in its central sanctuary. This three storey temple is the most complex and extensive in design.It has 29 halls, 80 domes and 1444 pillars – no two pillars are alike and each pillar is covered with intricate carvings. Friezes depicting the life of the tirthankara are etched into the walls, while musicians and dancers have been modeled out of brackets between the pillars and ceiling. Two smaller temples dedicated to Parasvanath and Neminath are also situated within the same complex. The sculptures within are of a similarly high standard.
Bishnoi Village Safari : All around Jodhpur are the Bishnoi community habitats in large numbers. Their fascinating rustic way of life, everyday rituals and folk architecture is worth seeing. The Bishnois are renowned for following their 29 conservation principles founded in the 15th Century by a Bishnois women. The Bishnoi region thrives in large numbers of Indian antelope and to a Bishnoi these are scared animals to be protected at all cost. The Bishnois are also known for their love for preserving green vegetation and environment management.
The safari takes you to the villages of potters and shepherd's settlements. All around these villages is the unique sight of a large number of antelope and black buck roaming about freely. A nearby lake is home to various species of birds including numerous peacocks and cranes. Drive onwards to visit the villages where artisans indulge in superb terracotta work and block printing on fabric. These Bishnoi villages are known for producing durries, carpets, rugs, bed covers and tents using camel or goat hair, wool and cotton. The villagers take pride and delight to explain their customs and daily life.
Fort Chanwa Of Luni : In 1992, inspred by the successful restoration of heritage properties, Maharaj Dalip Singh is the youngest son of H.H Maharaja Umaid Singh of Jodhpur and the 24th direct descendant from Rao Jodha, ruler and founder of Jodhpur in the 15th Century. Fort Chanwa, retored to its pristine glory and charm by its proud owners Maharaj Dalip Singh and Rani Madhu Devi, warmly welcome travelers from distant lands offering princely hospitality in an inimitably enchanting setting. The entire fortree is carved out of the famous red sandstone of Jodhpur with its ornately carved lattice work friezes and intricate jarokhas and the traditional paintings on the walls harmoniously reflect the skills of the master craftsmen of a bygone age.
The village of Luni is a hub of activity with its many artisans fashioning metal, clay and wood into intricate forms and demonstrating the skills passed down over the centuries by their ancestors. The village elders solemnly reflect the changing times under shady trees, while the children enjoy running around narrow carefree streets. The women, swaying in their brilliant Rajasthani colours go about their daily chores to give water and sustenance to the village.
Day 7 : Luni - Jodhpur

Morning: Leave for Jodhpur by road (approx 30mins drive).
Visit Meherangarh Fort and Jaswanthada with a local English speaking guide.
Overnight at Hotel Ajit Bhawan.
Jodhpur : The former capital of Marwar state, Jodhpur was founded in 1459 by Rao Jodha. Its formidable Meherangarh Fort was built first, around which grew the city of Jodhpur. The blue wash on houses in the old city originally signified that they belonged to the Brahmins (priests), who made up most of the city's inhabitants. The bazaars of the old city are gathered around the tall clock tower, with different areas assigned to different trades. Locally made goods include tie-dye, puppets and lacquered jewellery. A flourishing centre of trade in the 16th Century, Jodhpur today is the second largest city of Rajasthan but still maintains its medieval characters. Jodhpur is renowned for its palaces, forts temples and other elegant monuments of architectural and historical value.
Meherangarh Fort : Spreading over 05 kms on a perpendicular hill at a height of 125 metres, the fort is rugged and impenetrable. It is protected by a high stone wall with seven gates and countless bastions. It houses some of the most intricately adorned palaces with exquisitely carved panels and latticed windows. Moti Mahal (Pearl palace), Phool Mahal (Flower Palace), Sheesh Mahal (Mirror Palace), Sileh Khana and Daulat Khana are the important areas to visit and view the collection of palanquins, howdas (elephant seats), royal cradles, miniature paintings, musical instruments, costumes and furniture. The exotic names of the palaces evoke a courtly society that between violent battles loved to indulge in beauty and elegance. One palace has pictures of dancers, deities and rulers on its walls and wooden ceilings, brightly painted with touches of gold. Other palaces have sandalwood ceilings, mirrored walls and decorated archways.
Day 8 : Jodhpur - Jaisalmer

Morning: Leave for Jaisalmer by road (285 kms / approx 05 hrs drive).
Afternoon : Arrive Jaisalmer. Overnight at Hotel Gorbandh Palace.
Jaisalmer : Approaching Jaisalmer from the desert, it seems suddenly to rise out of the desert haze, a magnificent stretch of massive yellow sandstone walls and bastions. Even today, the life within the citadel conjures up images of medieval majesty visible in its narrow lanes strewn with magnificent palaces, havelis (mansions), ancient Jain temples and skilled artisans. Jaisalmer is spectacular. It is truly Rajasthan's most enchanting destinations, tranquil and beautiful. Its soft desert dtreets are spiced with bright oranges, reds, yellow and blues of turbans, scarfs and skirts.
Day 9 : Jaisalmer

Morning : City tour of Jaisalmer with a local English speaking guide.
Afternoon : Excursion to Sam Sand Dunes with a local English speaking guide.
Enjoy a Camel ride on Sam Sand Dunes. Overnight at Hotel Gorbandh Palace.
Jaisalmer Fort : Built by the founder of Jaisalmer, the Bhati Rajput Maharawal Jaisal in 1156 and reinforced by successive rulers, the fort still houses palaces of the Maharawals, some ancient Hindu and Jain temples and the fomous havelis (mansions). It housed an entire township within its huge ramparts. Every part of Jaisalmer Fort, from its outer walls to the palaces, temples and houses within, is made of soft yellow sandstone. The Jain temples in the fort, built between the 12th and 15th Centuries areb the most impressive. The walls, ceilings and pillars of the Jain temples bear exquisite sculped motifs and small corridors and stairways which connect one temple to another. In a vault beneath these temples are contained Jain manuscripts, paintings and astrological charts dating back to the 11th Century. The fort's ramparts provide superb views of the old city and the surrounding desert landscape.
The Havelis Of Jaisalmer : The streets of Jaisalmer are flanked with numerous facedes covered with lattice work and floral designs, but the city's real show pieces are its havelis (mansions). Each of these extravagant mansions comprising of three or more storeys around a central courtyard was commissioned by the wealthy merchants of Jaisalmer during the 18th and 19th Centuries. These are some of the most beautiful and elegant examples of medieval architecture in India. Their stonework was the art of the silavants, a community of masons responsible for much of Jaisalmer's unique sculpture.
Patwon Ki Haveli : The largest and magnificent of all the mansions, this five storeyed haveli was built in 1805 by a Jain merchant, Guman Chand Patwa. This Jain merchant had made a fortune trading in fine brocade and hence the name Patwon Ki Haveli which means Mansion Of The Brocade Merchant. The front of the haveli has sixty finely carved latticed balconies. The interiors have exquisitely carved pillars and extensive corridors and chambers. One of the apartments of this haveli is painted with beautiful murals in bold red and gold.
Salim Singh Ki Haveli : Built by the Prime Minister of Jaisalmer, Salim Singh in 1815, the haveli has a beautiful arched roof with a row of blue peacocks below the arched balconies. This is a superb mansion covered with intricate carvings and has an elaborate projecting balcony on the top storey.
Nathmalji Ki Haveli : Built by the Prime Minister of Jaisalmer, Nathmalji in the late 19th Century, this haveli is a rare gem of craftsmanship. It has a highly decorative façade with two yellow sandstone elephants at its entrance. The interior walls are ornate with splendid miniature paintings.
Sam Sand Dunes : 42 kms west of Jaisalmer is the village of Sam where the sunsets are breathtaking.
Day 10 : Jaisalmer - Bikaner

Morning : Leave for Bikaner by road (333 kms / approx 07 hrs drive).
Late Afternoon : Arrive Bikaner. Overnight at Laxmi Niwas Palace Hotel.
Day 11 : Bikaner - Mandawa

Morning : Visit Junagadh Fort with a local English speaking guide. Therefore, leave for Mandawa by road (approx 03 hrs drive). Enroute visit the painted havelis of the Shekhavati region at Nawalgarh and Fatehpur with a local English speaking guide. Late Afternoon : Arrive Mandawa. Overnight at Castle Mandawa Hotel.
Shekhavati : North of Jaipur lies the easternmost extent of the Thar desert, where small dusty towns sit between sand dunes and infertile expanses of parched land. This is Shekhavati, a region of strange, profound beauty. While the terrain is baren, dry and hostile, the architecture and painting of the local buildings possess a richness unparalled in all India, with an incredible number of mansions, palaces and cenotaphs decorated inside and out with detailed and vivid colourful murals. The murals executed between the 1770s and 1930s were commissioned largely for the region's merchants, the Marwaris.
Fatehpur : The charming, compact and bustling market town of Fatechpur has the feel of a crumbling open-air museum. Fatehpur's merchant community left a rich legacy of remarkable buildings. Almost every street is flanked with the painted outer walls of havelis and their interiors are one of the finest in Shekhavati. A common theme of paintings is Lakshmi, the goddess of wealth, attended by mighty, regal elephants and set against a rich azure background. Freizes in several temples depict scenes from the great Hindu epics. The most celebrated of Fatehpur's havelus is the small but exquisite Goenka Haveli built in the mid-19th Century. The Nand Lal Devra Haveli has murals on the courtyard walls and the complex carvings on its wooden doors and shutters are impressive.
Nawalgarh : 30 kms south-east of Fatechpur, Nawalgarh was founded in 1737, when thick stone walls pierced by four gateways were erected to encircle the town. Havelis in Nawalgarh include Aath Haveli, Surajmal Chhauchharia Haveli, Goenka Haveli and the Anandilal Poddar Haveli.
Mandawa : Founded in 1755, Mandawa is 20 kms east of Fatehpur. The outer walls, jutting balconies, alcoves and overhanging upper storeys of the Goenka Double Haveli in the west of town are replete with patterns and paintings. Another haveli worth visiting is Gulab Rai Wadai Haveli, and inner walls is perhaps the finest in Shekhawati.
Day 12 : Mandawa - Jaipur

Morning : Visit the painted havelis of Mandawa with a local English speaking guide. Thereafter, leave for Jaipur by road (approx 03 1/2 hrs drive). Evening : Arrive Jaipur. Visit Amer Fort for a son-et-lumiere spectacle.
Overnight at Hotel Mansingh Palace.
Day 13 : Jaipur - Mumbai

Morning : Transfer to Jaipur airport for your return flight to Mumbai.
Customise your own package