MEDICAL TOURISM
CUSTOMISED PACKAGES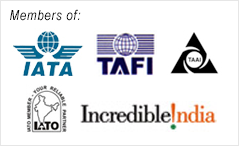 FAQs
What is Medical Tourism?
Medical Tourism is a new concept used to represent obtaining medical or surgical services while traveling or vacationing in another country.


What are the types of medical procedures that tourists usually seek in India?
Medical tourists who come to India usually get elective procedures such as cosmetic surgery, knee replacements, and dental procedures, Heart surgery, any procedure that is usually not covered by insurance or have a long waiting time in their home country.


What is the cost savings compared to the costs in my country?
The potential cost savings for medical tourists are huge and as a result they are one of the most important factors in seeking treatment in India. It is important to note that the cost for each individual will vary depending on their need and requirements. Usually, an elective procedure such as a knee replacement would cost on average of $30,000 in the US. Whereas getting that same procedure done using similar quality parts in India would cost 40 - 60% less than the cost in the US, including the hospital stay, all procedure and physicians costs and transportation to and from India. The costs compared to UK are similarly lower by about 40 - 60%. This is mainly possible because of favorable currency exchange rates.


Are these costs savings due to lower standards of medicine in India?
Absolutely not, the Indian medical standards match up to the highly prescribed international standards. The lower costs are due to favorable currency conversion rates and lower costs of operating in India.


How do I make payments and how is it handled?
We are not the medical provider and cannot accept payment for your medical expenses. You will be required to make payment per hospital policy. Usually, this involves paying a deposit prior to undergoing any diagnostic tests and/or procedures. A final bill will be presented to you prior to discharge from the hospital. The travel and accommodation charges will be collected as per our Company rules and regulations.


Why should I choose India over other destinations?
India has some of the most highly qualified and experienced physicians in the world. With a cultural emphasis on education, most of these physicians have gone on to super-specialize in their field, enabling them to become experts in their respective medical specialties. Further, most of the physicians that are with our Company network have had extensive hands on training. The hospitals that our Company has tied up with are the leading hospitals in India with multi-specialty facilities.

In addition to traditional medicine, India offers many more relaxing and rejuvenating treatment options from Yoga, Ayurveda, and Meditation to Allopathic and Naturopathic medicine.

India also offers world-class travel destinations such as the Taj Mahal, the beaches of Goa, the backwaters of Kerala and hiking in the Himalayas, heritage rich Rajasthan to name a few.


Are the hospitals in India well equipped and up to international standards?
India has several private hospitals that are designed to provide world-class medical care in India. These hospitals utilize some of the best medical equipment that is available world-wide.
Can I speak to the doctor in India before going on my trip?
We will be happy to arrange a phone consultation with the corresponding physician in India and ensure that all of your questions are answered. We provide this as part of our total package, as we want you to be totally comfortable with your decision to go to India for your medical needs. You can also have your doctor consult with our doctors in India.


After reaching India, how do I go about with my trip?
Our Company Relationship Manager will be with you every step of the way; from meeting you at the airport when you land in India, to the moment you leave to fly back home. Their sole function is to provide you with any assistance that you may need. They will ensure that transportation is arranged to and from your accommodation to the hospital for all of your appointments. In addition, you will also be given a pre-paid cellular phone during your stay, so that you can contact your Relationship Manager or anyone else that you may want.


Can I travel as soon as my medical treatment is over?
Your physician in India will make an assessment of your recovery and make a decision as to when it may be possible for you to travel.