CUSTOMISED PACKAGES
MEDICAL TOURISM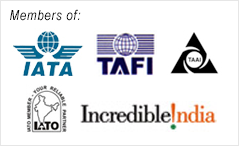 Customise your own package
Our trip to India has been a wonderful experience.

The service and hopitality which we had received was overwhelming. The agency was very caring and attentive, always calling to check on us and if everything was going according to schedule.

The tour guides that had received us throughout the trip were very friendly and informative towards us. Our drivers as well were very patient with us.

The accommodation which we had been given were situated at wonderful locations. The hotel staff were very welcoming and did everything to make us feel right at home. We have had no problems or complaints.

It was a wonderful, funfilled never to be forgotten experience and I would just like to thank Ashish, Navlina and Dickie of Columbus Travels for arranging such a trip.

Yours Faithfully,

Salim Vallee.
Port Shepstone, RSA.